Growing confederate jasmine. Trachelospermum jasminoides images. Star jasmine plant bonsai. Although this is not a Jasminum, it is the most common white jasmine seen in the South.
T. jasminoides is completely unrelated to true jasmine plants which are members of the genus Jasminum but it bears star-shaped white flowers which both look and smell like jasmine flowers.
If you enjoy the sweet, heady fragrance of flowering jasmine, star jasmine can be a useful addition to your fragrant plant collection. It starts to bloom just as the flowers of Jasminum polyanthum begin to fade.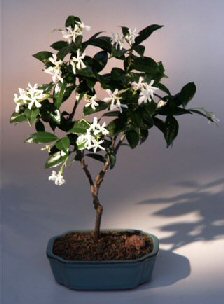 Buy a Flowering White Jasmine Bonsai
The inch wide blossoms hang in clusters from long stalks which form in the leaf axils. The vine blooms in the spring and early summer.
How to Grow Star Jasmine
Confederate Jasmine Used as a Groundcover
The woody, twining stems of this versatile vine will climb a tree or trellis. Confederate jasmine can also be trained up a post and used as a pillar plant or trimmed into a shrub.
The dark shiny leaves are evergreen (there is also a variegated form) and clothe the stems very thickly. This makes the star jasmine plant the perfect vine to beautify an ugly chain link fence or block an unwanted view.
It is also good to use in tight spaces where a shrub would be too large. A lady I used to work with lived in a zero-lot-line subdivision. She had 2 pieces of white lattice cut the same size as the short ends of her screen porch, affixed the trellises to the porch and planted a star jasmine vine on each side of her porch for privacy.
The attractive leaves gave her year round screening and the flowers gave her fragrance in the spring. After the bloom season ended, she trimmed it to keep it flat against the lattice.
This is the key to pruning Trachelospermum jasminoides. You can trim it any way you want to just so long as you do it in the summer, shortly after the flowers fall.
If you prune it in early spring you will be removing flower buds.
It will take very bright light or moderate shade. Plants grown in full sun will need regular water. Vines grown in shady locations show more drought tolerance.
I have a vine growing up into some oak trees in my back yard. It has climbed all the way to the tops of the trees ( about 15 feet high) where it blooms mostly in the sun above them. In the spring, the trees seem to be dripping jasmine and fill my porch with the most wonderful fragrance.
Confederate jasmine can also be grown indoors. Place it in bright light and let the soil dry a bit between waterings.
Feed in spring, summer and early fall and propagate by taking cuttings in the fall.
Plants are slow starters. Expect slow growth for the first 2-3 years. The vine becomes more vigorous as it matures.
I've never had an insect problem on my outdoor vine but scale and mealy bugs can bother indoor plants.
Recommended for zones 8a-11.