Pool landscape lighting pictures and ideas. Unique swimming pool landscaping lights. How to use low voltage and solar landscaping lights in your backyard pool landscape design.
The right kind of lighting can not only make your pool and patio safe and useable in the evenings, it can compliment its design. By placing lights just beneath or angling them toward important design elements, attention can be drawn to those features.
In the photo above, lights have been placed between the low hedge and the neatly trimmed tall hedge to accent a part of the landscape that the homeowner is understandably proud of.
More lights beside the steps provide safety.

The number of lights you will need for a pool landscape design depends on the size of the area to be lit and whether or not children will be using the pool.
The inground pool landscape above has been subtly lit. This type of gentle lighting provides a more relaxing and romantic atmosphere. As appealing as this may be to adults, it is not the best way to light a pool if there are little ones around.
In a house where children live, pool landscape lighting needs to be bright enough to allow mom and dad a clear view of the entire pool area at a glance.
Brighter lighting will also allow any elderly family members to use the pool comfortably at night.

In this small side yard, there are lights both inside the pool and in the surrounding planting beds.
If you are planning to have a swimming pool installed, plan the pool landscape lighting at the same time so that the lighting will be integrated into the pool landscape design.
If you already have a pool that is not lit or you want to add more lighting to the area, consider using solar landscaping lights. They are cheaper to install and run and are also a "greener" option than electric lights.

Specialty Designer Landscape Lighting
Coconut Lighted Palm Tree 9Ft 8In
I can't think of a better light for pools with tropical landscape designs than this LED palm tree. The lighted coconut tree is available in 7 colors and 5 sizes.
The energy-saving LED lights on the palm fronds do not flash. If a bulb burns out, the remainder will continue to glow.
The tree is built on a steel base with UV protected plastic fronds. It will withstand some winter weather, but if you live where winters are frigid and snow falls by the foot, store the light indoors for the winter.
Replacement fronds are available if you leave it out and a frond gets damaged.
LED Lighted Bottle Palm Tree 6ft Tall
This realistic-looking Bottle palm light will make a lovely patio accent in areas where a live Hyophorbe lagenicaulis cannot be grown.
Only the PVC fronds are lit. The fiberglass base is stable and the light can be used indoors or out.
LED Lighted Palm Tree 10ft Tall
The feathery fronds of this lighted palm are so lifelike that they even blow in the breeze! The steel composite trunk of this all-weather light is available in a range of sizes up to 20 feet tall making it suitable for use outside multi-story homes or businesses.
This light comes with a 3 year warranty.
GardenGlo Terra Cotta 6 LED Solar Planter
GardenGlo Blue 6 LED Solar Planter
This resin planter can be used as a cache pot for a plant or as a beverage cooler. Includes 3 AA, rechargeable batteries and 6 LED bulbs. Made in America.
Pool Lights
The Floating Light And Water Show.
An integrated pump draws water into this floating fountain causing it to spin slowly while spraying red, green, blue and yellow plumes into the air.
The base station (included) connects to your iPod and speakers (not included) to make the light and water "dance" to the music you choose. As the lights dance, a fascinating kaleidoscope of colored images form on the pool floor.
Solar Landscape Lights
Stainless Steel Solar Power Path Light
The bright white LED bulb in this light will never need to be replaced. Built-in Ni-Cad battery.
Solar Rock Light
This virtually unbreakable fiberglass and resin rock light would be easy to "hide" in a flower bed.
Solar Step Light Stainless Steel
This super bright white LED light can be installed in concrete or other hard materials. If you want pool landscape lighting that will not get in the way or draw attention to itself, this may be just what you need.
Solar Stainless Spot Light Rusted Bronze
Direct this spotlight up into a specimen tree to turn it into an instant garden accent. This maintenance-free light is available in 4 metallic finishes.
Set of Two LED Solar Spotlights
These no-wire lights remain lit for up to 10 hours each evening. Instructions and hardware are included for ground or wall installation.
The Solar Insect Zappers.
This is a set of 4 solar insect lights which will blend harmoniously into your pool landscape lighting design. The UV bulb attracts and eliminates annoying mosquitoes and flies. A grate surrounds the bulbs to prevent curious children and pets from touching them.
If not bugs are threatening, you can press a button and turn the stainless steel zappers into solar accent lights. Each light measures 20 inches tall x 6 3/4 inches wide.
Electric Landscaping Lights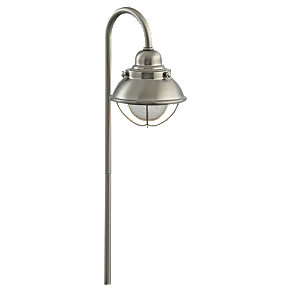 Sea Gull Lighting Sebring Landscape Path Light in Brushed Stainless Finish
This brushed stainless steel and glass lamp is 22 inches tall and 5 inches deep after installation.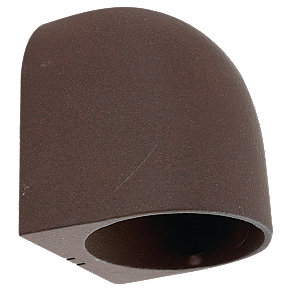 Sea Gull Lighting Chestnut Aluminum Landscape Down Light
Sea Gull Lighting White Aluminum Landscape Down Light
These lights are 2 3/4 inches long x 2 1/8 inches wide. They are UL listed for wet locations.
Other Outdoor Lights
The Cordless Telescoping Patio Lamp.
This is an excellent lighting option for outdoor areas where an electrical outlet is not available and there is not enough sunlight to charge a solar light.
Another benefit is that there is no ugly cord to hide.
The lamp telescopes from 24-60 inches tall for use as a table or floor lamp. The LED lights allow you to adjust the brightness to suit the setting. Sealed aluminum housing makes the lamp weatherproof.
The 8 D batteries that power the light are not included.
Portable Propane Patio Lights Gas Light Head
This light is available in your choice of 5 different head styles. The 2 wheel cart you see here is included, the propane tank is not.
There is also a Natural Gas Patio Light.
Allow a minimum of 3 feet of clearance on all sides of these lights for safety.



Pool Landscaping Ideas
Get pool landscaping ideas from these swimming pool landscape design photos. Good plants to use when landscaping around pools. Landscaping around reflecting pools. Pool landscaping pictures.
Go from Pool Landscape Lighting to Above Ground Pool Landscaping
Above ground pool landscaping photos. Above ground pool landscape pictures. Plants you should not use in above ground swimming pool landscaping. Above ground pool deck landscaping tips.