When is a vinyl arbor superior to a wood or metal garden arbor? Stunning PVC arbor with gate. Info about pergola and arch arbors. Arbor accessories including benches and wings for sale.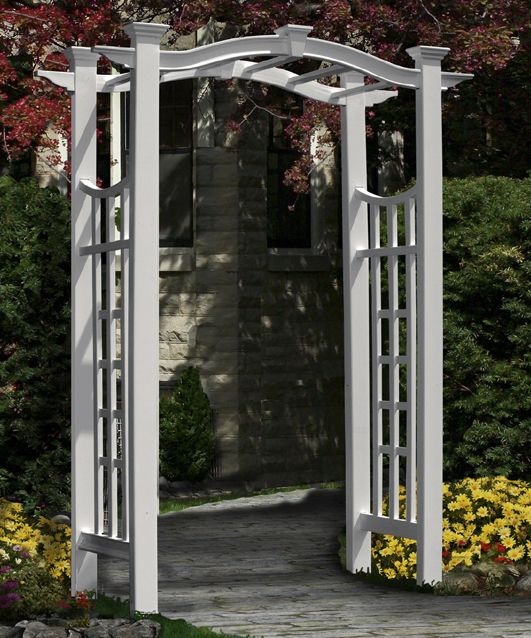 Florence Arbor
PVC arbors are superior to metal or wooden garden arbors from a maintenance perspective. You never have to paint or stain them and most manufacturers warranty their vinyl arbors against yellowing, cracking or warping.
Because the pieces are already "finished" when they arrive at your home, you can assemble a PVC arbor in minutes.
If you are installing the arbor prior to a special event like a party or wedding, you don't have to worry about the mess that paints and sealants can make or wait for them to dry. You can decorate the structure immediately.
Most vinyl arbors are white. They are usually designed to resemble painted wood. If you want the look of natural wood, you will probably not find a PVC arbor that suits you. If you want a black arbor, metal arbors will be a better choice for you.
Vinyl also keeps looking new for a long time. It will not weather to a soft gray color the way an unsealed wooden garden arbor would. This may be a plus or minus depending on your outlook.

Pergola Arbors
Arbors:Mocha Camelot Arbor
Arbors: White Camelot PVC Arbor
A vinyl arbor in a unique color. Mocha is a wonderful color option for people who want the maintenance free benefits of a vinyl arbor but do not want a white arbor.
Mocha will better compliment most earth-toned homes. This design is also available in white.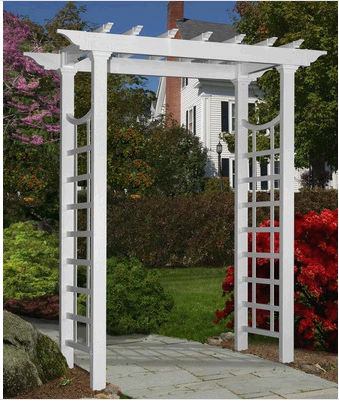 New England Arbors Westhaven ArborIt will be easy for twining vines to wrap around the slats in the sides of this trellis arbor. The openings are also large enough for you to reach through if you need to tie rose canes to the structure.
The inside opening is 50″ wide and this arbor comes with a 20 year warranty against yellowing, warping or cracking.
Arbor: Fairfield Grande Arbor with Trim
The Smaller Fairfield II Arbor with Trim
Grand is just the right word to use to describe this magnificent garden accent. The inside opening is 80″ wide and can comfortably accommodate most benches, span a wide path or host a wedding ceremony.
The lattice sides and pergola top make it the perfect structure to support
climbing roses, jasmine or other flowering vines.
A smaller version, The Fairfield II is also available if you like the style of this arbor but want something more modest.
Newport Arbor-White With Trim Kit
The trim makes this arbor charming. Reminiscent of a piece of dollhouse furniture, it would enhance any country cottage or cottage garden.
Wellington Arbor White
Wellington Arbor Mocha
This design has the look of a Japanese screen. It would be right at home in any Asian inspired landscape. Take your choice of white or mocha.
Arch Arbors
New England Arbors Nantucket Legacy Arbor
The classic New England design of this garden arch arbor will compliment most Salt Box or Cape Cod style houses. The lattice sides will allow vines that climb by use of tendrils to scramble up without needing to be tied.
New England Arbors Westchester Arbor
Some vinyl arbors look more like painted wood than others. This is one of the classiest PVC arch arbors I have seen. It just does not look like vinyl.
I also like the way it has been placed into this landscape: at a fork in the path.
This heightens your sense of expectation.
It not only draws your eye but makes you wonder what you will see if you choose that path.
The large ornamental grasses and shrubs preserve the mystery by partially obscuring your view of the plants and structures which lie further along the path.
Arbors: Grand Colonial with Wings PVC Arbor
This garden arbor trellis is also available without the wings but the wings make it so much more striking. They also give you lots more vertical growing space.
Use this arbor, as depicted, to highlight a specimen plant or cherished garden ornament. Or use it to separate your garden into rooms. Once the wings are clothed in foliage, they will add privacy to any area.
Arbors:Mocha Cottage Arbor
White Cottage PVC Arbor
Here is another mocha garden arch arbor. This simple, classic design comes with all the needed hardware and ground anchors.
Notice how well the dark red leaves of the Japanese maple tree compliment this color. red fountain grass would also look stunning beside it.
Garden Gates and Arbors
Fairfield Deluxe Arbor
Cottage Gate 50 In Opening
Cottage Gate 45 In Opening
Cottage Picket Wings
This stand-out white PVC arbor looks great with or without the arbor accessories shown in the photo which are sold separately and can also be used with other arbor kits.
The vinyl contains a UV inhibitor to prevent yellowing and all the components are backed by a 20 year warranty.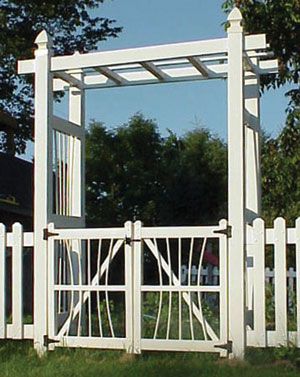 Courtyard Arbor with Gate
You can't tell from this photo, but the sides of this arbor are comprised of bowed rails to match those on the gate. You can also buy the Courtyard arbor without the gate or with 2 benches. The links will take you to photos of each option.